~~SOLD~~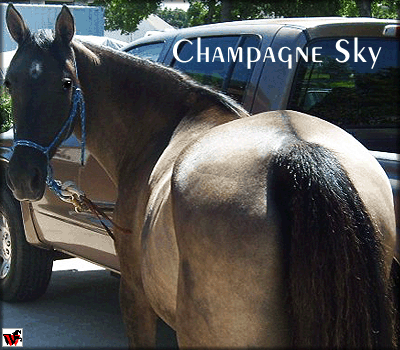 13 year old, true black dun (Grulla) Tennessee Walking Horse mare - an excellent saddle horse with a smooth, fast gait. She is DNA converted and her dun line traces back 3 generations. She has had 4 foals. She has 10 years of trail experience in rough mountains and will go where you point her. Sky is safe, sane and sound! This is truly a great little mare. She will contribute her gait, calm intelligence and rare color to the breed, and at the same time double as a saddle horse. Champagne Sky is a petite mare and is only 14.2 hands. She is so smooth and fast that its surprising! She is very prepotent for that gait. Her foal this year is AMAZING! She is open.
If she doesn't sell, the kids will use her for 4H again next year. Champagne Sky could be a huge asset for someone who wants rare color without compromising on gait.
SOLD
Prices are quoted in US funds. Overseas transport can be arranged.
PEDIGREE
Click on the blue links below to load pictures.
Reference Photos courtesy of The Ancestor Gallery
Favorite's
Royal Man

Pride's Favorite

Pride Of Midnight HF

Midnight Sun
Pride Of Stanley
Pettit's Shirley
Barker's Merry Boy
Shirley Temple H.
First Lady O.
Midnight Black Lace
Midnight Sun
Walker's Merry Lou
Merry Maker Last Lady
Merry Maker
Lady Allen B.
CHAMPAGNE SKY #954460
Society's
Little Dancer
Raging Rebel
Duke's Lil Gypsy
Delite's Grand Duke
Julie's Dixie Girl
Ebony's Mistress
Ebony's Little Joe
Hi-Hat's Mistress
Daddy's Society Girl
Big Daddy's Delight
Sun's Delight D.
Polly Harris T.
High Society Ann
Perfection's Playboy
Sunshine's Helen
If you are interested in purchasing this horse,
please contact Walk N Express for more information.